How to reach Como lake by public transport
Hey! If you plan your vacation or a business trip to Como lake, you might be asking yourself what the best way to get there is and how to move around during your stay. Having a car may help you to easily reach any spot of the lake and the surrounding area, but it is not the best option if you are not comfortable driving on narrow, curvy Italian streets or if you come in the high season when it is hard to find parking. Luckily the cities and villages of Como lake are reachable by public transport, so here we will collect info about how to plan a route and where to buy tickets.
Before we start, note that Como lake is large, so the choice of transport will depend a lot on where exactly you go. The lake has two branches: Lecco and Como sides. Como branch is more luxurious and is full of private villas. The city of Como can be reached by train from Milan or Lugano (Switzerland), but to go up the lake, you can only use buses or boats. The Lecco branch is more convenient for public transport users since all its cities are connected by a train line that starts from Milan, passes all the front lake cities from Lecco to Colico, and arrives in Sondrio in Valtellina valley. The city of Lecco is also reachable by direct train from Bergamo, which makes it beneficial for those who arrive at Bergamo airport. The mountain villages can be reached only by bus.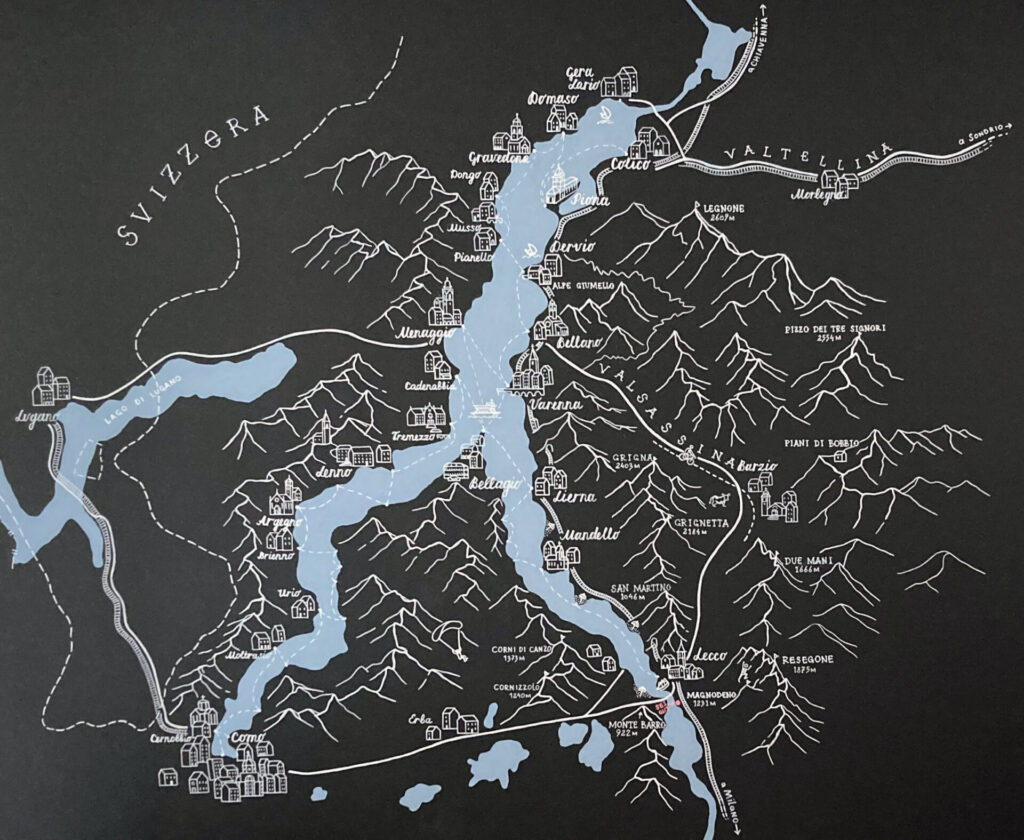 Note that there is no Uber in Italy! The Italian taxi drivers had protested against Uber, saying that Uber stole their job and won. Unfortunately, there are not many taxi drivers in the area, and very few of them speak English. So if you plan to use a taxi, check in advance some taxi phone numbers in the city where you go.
1. Trains
There is a train line only at the Lecco side of the Lake. The city of Como is reachable by train from Milan, but then the train goes to Switzerland, not up the lake. Lecco is well connected to Milan, Bergamo, and lake front villages on the same side until the top of the lake.
You can buy tickets on trenord.it or at the train stations.
If you are planning to travel a lot around the lake or in Lombardy in general, you can buy a special pass, "io Viaggio Ovunque in Lombardia." It is valid on regional trains, buses, the metro in Milan, and some cable cars (only the public ones that bring to inhabited mountain areas). The cost is: 1 day – € 16,50, 2 days – € 27, 3 days- € 32.50 , 7 days – € 43,50. You can buy it at any train station. Children until 14y old travel for free when accompanied by a family member! To benefit from this advantage, you should fill "io viaggio in famiglia" form.
2. Boat
Boats are not only a means of public transport, but they are a nice way to spend some time on the lake, it is an adventure in itself! Most of the cities and villages on Como lake are connected by public boat service. A ferry service also connects the central towns (Varenna, Menaggio, Bellagio). Note that the boat service is limited in the winter time. So it is always recommended to check the current schedule.
You can check the schedule and prices and buy tickets on https://www.navigazionelaghi.it/ . You can also buy one day pass to use any boats during the selected day.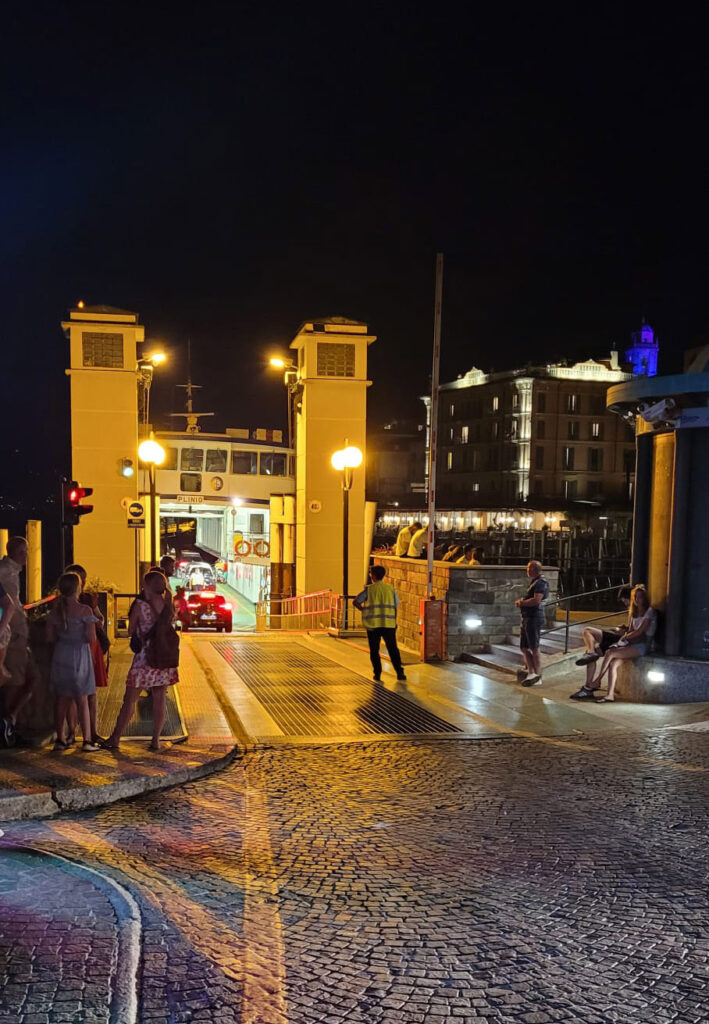 3. Buses
Many buses are going around the lake and the nearby areas. We recommend always checking the schedule in advance since some buses go just a few times a day! We would recommend using the Moovit app to control the schedule. You can buy tickets on board (usually a bit more expensive), in newspaper kiosks, or in tobacco shops (tabaccheria). You can also use any buses without limits if you have "io Viaggio Ovunque in Lombardia" pass (see trains section).
Arriving from Airports
1. From Bergamo airport
From Bergamo airport you can easily reach Lecco:
Take a bus n.1 from the Airport to the Bergamo train Station – 30 minutes
Take the train From Bergamo to Lecco (note that the last train is at 21.08) – 40 minutes
If you have some time to spend in Bergamo and you do not have heavy bags, go to check the 'Bergamo Alta' part of the city! It is the historic center located uphill that is really worth visiting! You can reach it by a funicular. In this case, exit from the bus from the airport at the 'Bergamo Bassa' stop.
From Lecco, you can reach:
all the towns on the same side of the lake and Valtellina valley by train
Valsassina valley by D35 bus
Surrounding villages by buses (check Moovit app)
If you need to go to the Como side:
Take a bus n.1 from the Airport to the Bergamo train Station – 30 minutes
Take a train to Monza – 30 minutes OR take a direct bus from the Airport to Monza
Take a train from Monza to Como
From Como city, you can move by bus or boat to other villages on the same side.
2. From Linate Airport
From Linate Airport you should reach Milano Train Stations by metro (it is a new line and is not well connected to the other metro lines yet) and city buses or by direct shuttle (more expensive but faster). The fast trains to Lecco side villages go from Milano Centrale station. The trains to Como start from Cadorna station. To move further, check the previous sections.
3. From Milano Malpensa
From Milano Malpensa, there are direct trains and buses to the main train stations. The fast trains to Lecco side villages go from Milano Centrale station. The trains to Como start from Cadorna station. To move further, check the previous sections.
In the airports, you can also easily find taxis, but be aware that taxi service is pretty expensive and reaching Como lake from the Airports will cost you approximately 120-200euro depending on the Airport and the final destination.
Feel free to ask in the comments for more specific info about how to reach some places, we will be glad to help!