Four days hiking
This summer, we experienced for the first time hiking in the mountains for several days, moving from one "rifugio" (mountain hut) to another! Staying in rifugi is a fantastic opportunity to stay in quota in relative comfort and to experience the spirit of mountain life, local traditions, and food.
We have selected a path, "101," which passes between Sondrio, Lecco, and Bergamo provinces. It is a beautiful panoramic path that was historically the first to connect the Valtellina valley to Milan! It is the first high quota path that appeared much earlier than the road along Como lake. We had only four days, so we decided to do just a part of Val Tartano to Piani di Bobbio.
The planning has started much in advance. We have studied the location of all the rifugios in the area and have prepared several options. The final version was to do the following path: Val Tartano – Rifugio Balicco – Passo San Marco – Rifugio Salmurano – Rifugio Balicco – Pizzo Tre Signori – Rifugio F.A.L.C. – Rifugio Grassi – Piani di Bobbio. We booked in advance the ones where we planned to sleep.
DAY 1
We have reached the 101 paths from Tartano, a small village in the Sondrio province. We parked at Lecco, took a train to Morbegno, and then a bus to Tartano village. Reaching the path '101' was quite long, and we had to go up about 1300m. On the way, we met many gophers! When we reached the upper path, we entered a cloud, did not see anything around, and got lost several times. The last part of the path prepared for us a nasty surprise: we had to go over a mountain, which appeared to be much taller than we expected from the map. We walked already for an entire day and were pretty tired, so it was challenging to do the last unexpected 200m uphill! However, once we reached the top, we saw the mountain hut heading – Rifugio Balicco. Once we reached it, it started raining! Perfect timing 😉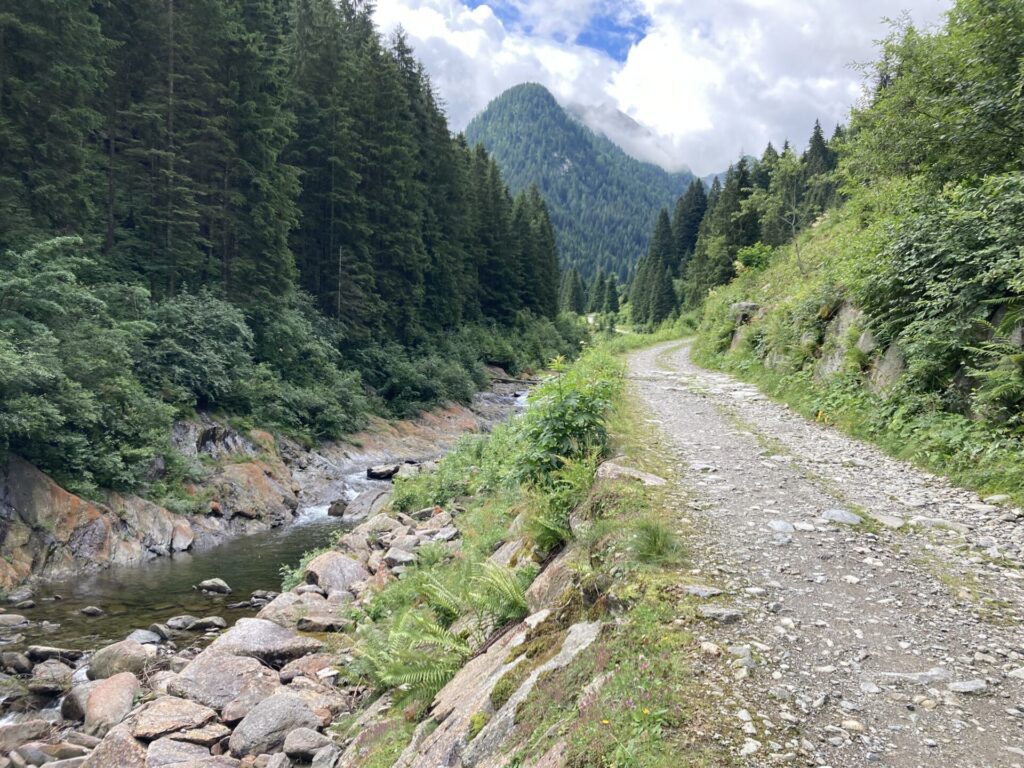 The rifugio Ballico is a small mountain hut managed by a family. It is pretty isolated, and even to bring up food and garbage, they have to go by foot with a motorized carriage for a few km until the nearest road! However, they manage to live there all the summer months with a two years old girl! There are two small rooms, six sleeping places each, and a bathroom with a hot shower. Considering the weather, we were the only people who reached it that day!
DAY 2
The next day the weather was perfect! We could not recognize the place which was so rainy the day before! We expected the day to be quite relaxing because we were already in quota and did not plan to go very high, but we did not consider that we would need to go up and down all day long. Before lunch, we crossed Pizzo delle Segade and reached Passo San Marco. It is a panoramic path connecting the provinces of Sondrio and Bergamo, crossing the mountains. It is very popular for motorbikers. There are a couple of refuges on the cross of the walking path and car road where it is possible to stay and eat.
In the afternoon, we made a mistake planning to reach Rifugio Salmurano. Though it was not on path 101, we have chosen it to avoid gaining much elevation in that day and relax after the first challenging day. However, we chose the shortest path, which obliged us to go up and down several times, and it was exhausting despite impressive panoramas! Later, we knew that we could go directly to Rifugio Benigni, which was 360m higher, but it was less effort to reach it.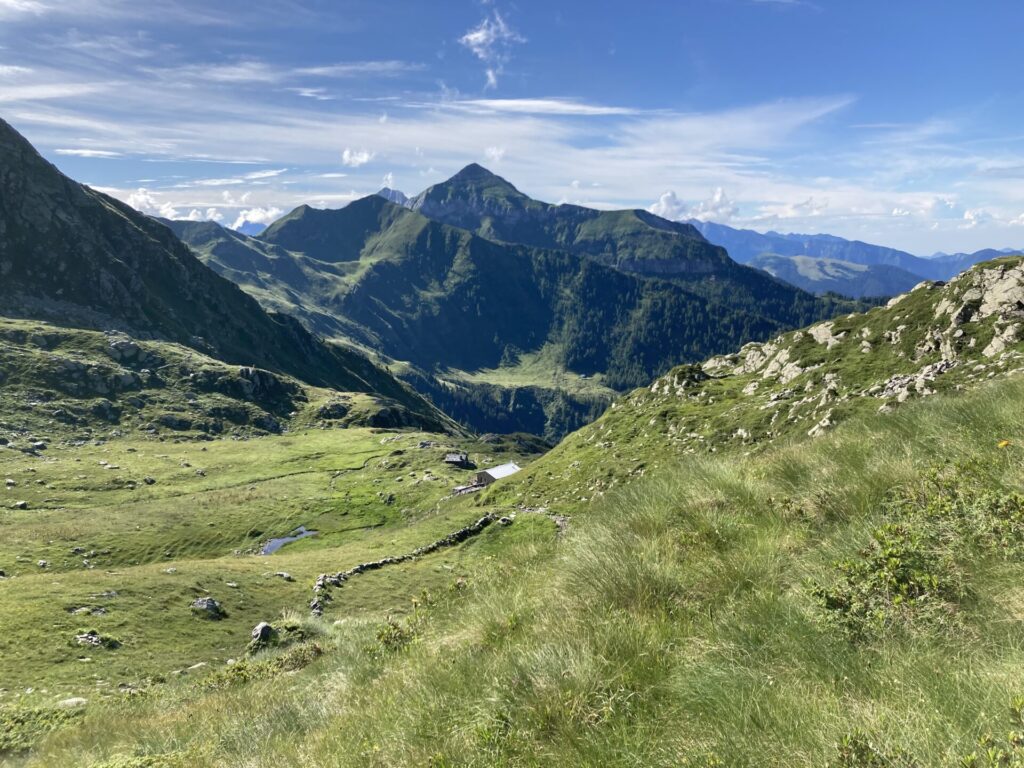 Rifugio Salmurano is located at a small ski resort, so it was possible to reach it by cable car from Pescegallo. It is a large structure from the 70s with private rooms and shared bathrooms. It seemed pretty commercialized and did not have a spirit of a mountain hut. However, it was not bad to have a private room, hot water, and internet for a night, knowing that the next night we would have to pass in a mountain without these benefits!
DAY 3
Day three was supposed to be the most difficult one, but somehow, it seemed to us instead easier than the previous two, probably just because we were already trained well 😊. Though the start was hard. We had to go up a very steep path, climb a bit on a Ferrata to reach the Rifugio Benigni. Rifugio Benigni is located in a fantastic super panoramic point and is managed by a family! We stopped there for a hot tea and continued going up.
The first part of the day planned to reach the path's highest point – Pizzo di Tre Signori. It is called this way because it divided three very important territories – Milan, Venice, and Switzerland! Now when the borders are moved, it divides three provinces: Lecco, Bergamo, and Sondrio.
The initial plan was to take a more difficult path and reach it by passing through Lago Rotondo. However, in the rifugio, we were advised to follow an easier path. It was the most complex part of the path from the technical point of view. It was full of ferratas and quite risky areas. Still, it was not a problem doing it, even without having any protective equipment.
The last part was to go down to another side of the mountain, reaching rifugio F.A.L.C. We were lucky to book it exactly for a day when there was also a concert by a singer and songwriter! Staying in this rifugio was the most unforgettable experience! Being isolated from the external world, without having hot water and any phone and internet connection, we could experience real mountain life, enjoying very nice company, the concert, and delicious food!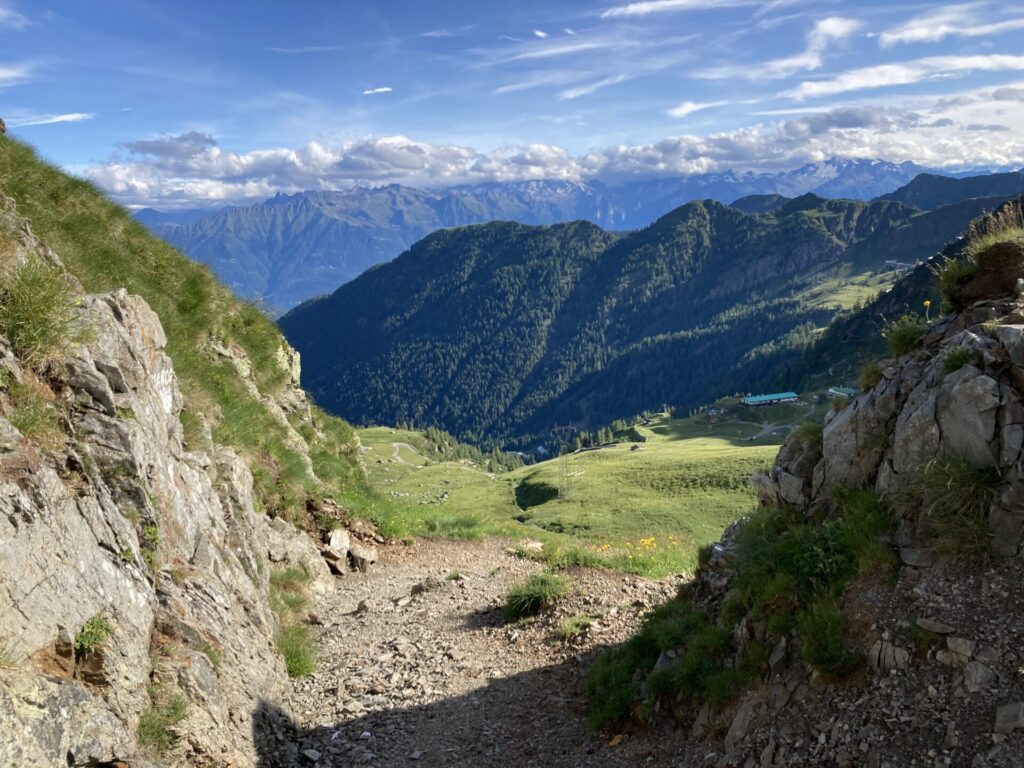 Day 4
On the last day, we were walking directly to Piani di Bobbio. The path mostly went down, so it was just a long, beautiful path. We stopped on the way at the rifugio Grassi for a coffee, crossed Passo del Torro, and arrived in a well-familiar area of Piani di Bobbio! We took a lift to Barzio, from where it is possible to take a bus to Lecco.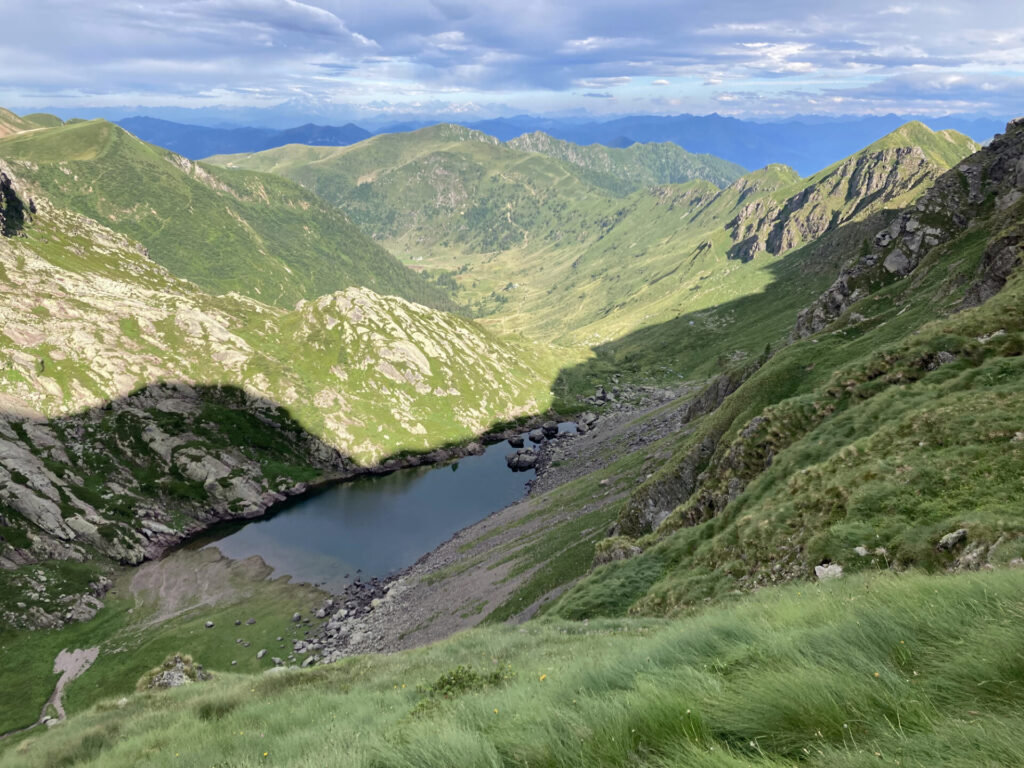 These four days flew fast and were truly amazing! 4 full days in mountains, 3867m of elevation gain, 49.67km… Definitely to repeat! If you would like to have a similar experience, we would be happy to plan your trip and help you book the mountain huts, so do not hesitate to contact us 😉