Skiing near Como Lake
Como lake is famous primarily as a summer tourist attraction perfect for visiting villas, swimming, or doing water sports. But do you know that just in 20 minutes drive from the lake you can reach ski slopes? It can be a perfect winter location for those who would like to mix the skiing holidays with visiting the famous villages of Como lake and enjoying high-quality food. In this post, we tell about the ski resorts where you can go just for a day trip while staying at Como lake!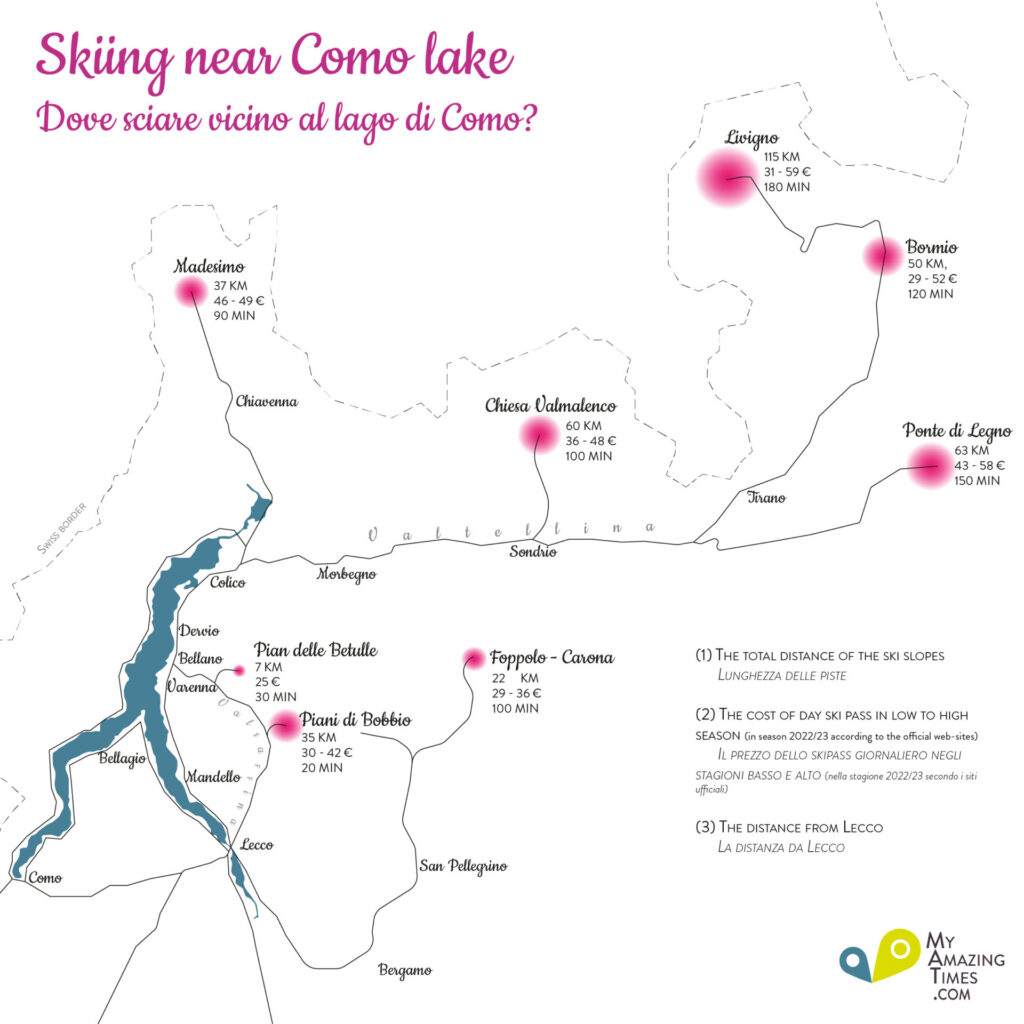 The Lake is located in the Italian Alps, surrounded by mountains. The tallest mountains are located in the North, where Valtellina valley is. It is a famous valley for winter sports with large resorts reachable within a 1.5-3 hour drive. In the nearest proximity to the Lecco branch of the lake is Valsassina valley. It is parallel to the lake, separated by Grigna mountain, and connects to the lake near Lecco and Bellano. In 1.5 hours drive, you can also reach the skiing slopes of Bergamo province.
Piani di Bobbio
Let's start with the Piani di Bobbio! Not only because we have some properties to rent nearby, but because it is a really nice and easily reachable skiing area 😉
Piani di Bobbio is located in Valsassina valley above the village of Barzio. It is also connected to Valtorta valley from the Bergamo side. So you can reach it fast both from Lecco and Bergamo! It will take you a 15-20 min drive (or 30 min by bus D35) from Lecco, 40 minutes from Bellano, or 1 hour from Bergamo (if you go up from Valtorta).
Piani di Bobbio has in total 35 km of slopes of various difficulties, including some wide easy slopes that are perfect for beginners and some black slopes for experts. It is also full of nice mountain huts to have a delicious lunch! The highest point is Monte Orscellera of 1950m above sea level. The ski pass costs 32 euros in the low season (all the working days besides holidays) and 42 euros during weekends and holiday days. You can get a 2 euro discount if you book at least 24h in advance online ;).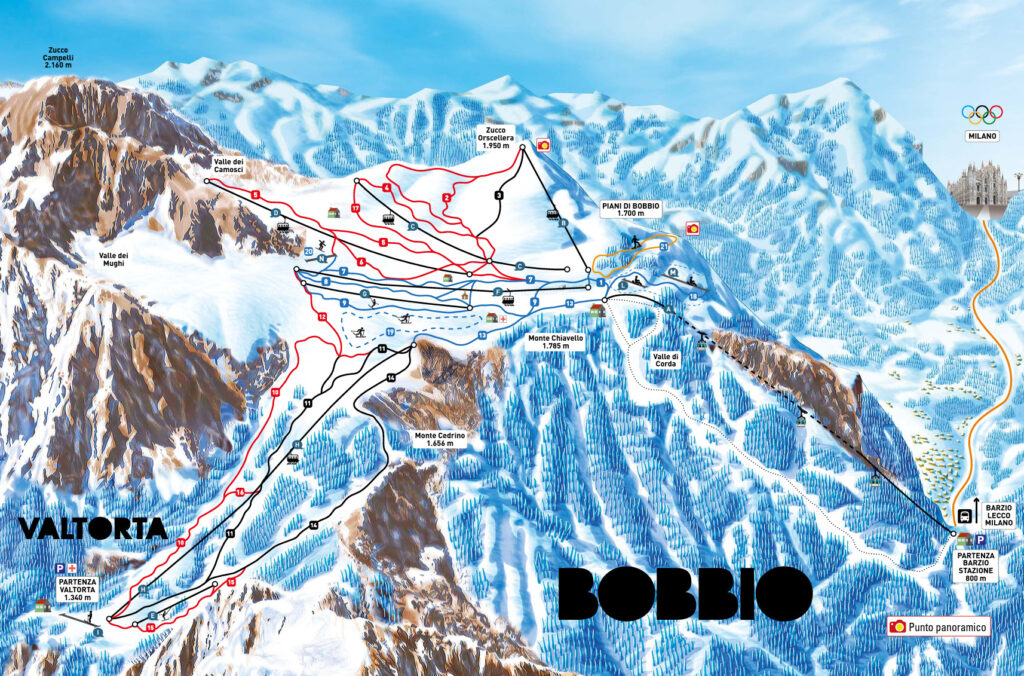 By the way, nearby is located another small skiing area called Piani d'Artavaggio, which you can reach from Moggio. There are just a couple of easy slopes. It is also fantastic for snow shoes and sledding.
Pian delle Betulle
Pian delle Betulle is a tiny ski resort in upper Valsassina. It has just a few slopes, but it can be a good starting point for beginners and kids. The ski pass costs 25 euros. The ski lift starts from Margno, reachable from Lecco in 40 minutes, or from Bellano in 20 minutes drive.
Madesimo
Madesimo is located in Valchiavenna to the north of the lake close to Swiss border. The ski lifts reach a maximum height of 2880m! The total length of slopes is 50km of different difficulties plus a couple of areas for slopes skiing. The ski pass costs 46 euros in the low season and 49 euros in the high season. Madesimo is reachable in 1.5h from Lecco or 1h from Colico.
Check the web-site of Valchiavenna to know more and buy tickets online.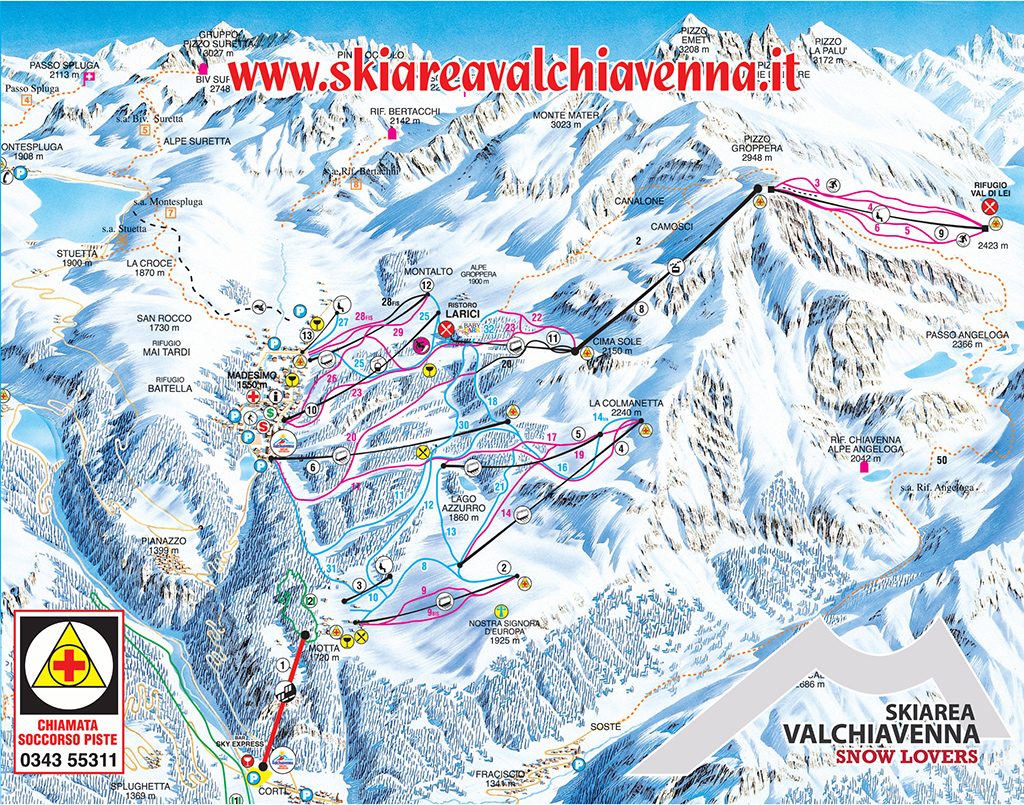 Chiesa Valmalenco
Chiesa Valmalenco is a ski resort above Sondrio, Valtellina. You can reach it by car from Lecco in 1.5h or from Colico in 1h drive. It has 60 km of slopes, including one extreme for expert skiers! The highest point is at 2300 m. The day ski pass costs 36 euros in the low season and 48 euros in the high season. They also have a ski pass for 30 euros for beginners with limitations on the ski lifts that one can take. Check this website for more details.
There is also 37 km for nordic skiing near lake Palù and around the village!
Foppolo – Carona
The main ski resort in Val Brembana in Bergamo province with 22 km of ski slopes, with the highest point at 2163 m above sea level. The are also numerous areas for ski touring. Foppolo is reachable from Lecco in 1.5-2h, and in 1h from Bergamo. The cost is 36 euros during the weekend and holidays and 29 euros on other days. Check more info here.
Ponte di Legno
The ski slopes connect several areas that used to be separate resorts for a total of 63 km of ski slopes! This huge and nice area is reachable in 2.5h from Lecco by car. The ski pass cost is from 43 to 58 euro. The website for more info is here!
Bormio
Bormio, is one of the most famous skiing locations in Italy thanks to the World Cup downhill races on the Stelvio slope, which descends from 3000 m to the village at 1200 m. It has a total of 50km of slopes and there are some slopes open for night skiing! Near Bormio are located Oga skiing resort with a total of 25 km of slopes and Santa Catarina with 34 km of slopes.
The ski pass cost varies from 29 to 58 euro depending on the season. Check more info here.
The village of Bormio itself is really worth visiting. Besides, it has a huge complex of QC therme, which can be a nice continuation of the day at skiing slopes 😉
Livigno
Livigno is the largest and most famous resort in Lombardy. It contains 115 km of slopes located on both slopes of the valley reaching a height of 2900m! There are also 30 km of slopes for nordic skiing. The skipass prices vary from 31 euro during the low season to 59 euro in high season. Check more info here.
Livigno is located near swiss border in a special economic zone of Italy where the taxes are very low 😉